John Kerry arrived in Mogadishu, the capital of Somalia, on Tuesday, becoming the first U.S. secretary of state ever to visit the unstable east African nation.
During his time there, Kerry is scheduled to meet with a range of Somali leaders, including President Hassan Sheikh Mohamud.
Kerry's visit is just the latest twist in the long and often difficult history of U.S. involvement in Somalia.
Here are some of the moments that still resonate from the past few decades of conflict, kidnappings and efforts to engage.
A humanitarian intervention with mission creep
December 4, 1992: Near the end of his time in office, President George H.W. Bush ordered thousands of U.S. troops into Somalia, leading a U.N. effort to ensure food supplies to starving people in the war-torn nation. Somalia at the time was being ripped apart by clan warfare after the downfall of its former strongman ruler, Mohammed Siad Barre. But the U.S. mission morphed beyond its original humanitarian goals and was sucked into the messy conflict.
The Battle of Mogadishu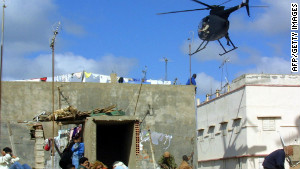 October 3, 1993: After the ambush and killing of 24 Pakistani peacekeepers in June 1993, U.N. troops in Somalia went on the offensive against the forces of the warlord Mohamed Farrah Aidid. That culminated in the infamous "Battle of Mogadishu," a raid by U.S. Army Rangers and Delta Force teams to capture some of Aidid's associates that went disastrously awry. Two U.S. Black Hawk helicopters were shot down by rocket-propelled grenades over Mogadishu, setting off a raging firefight in which 18 U.S. soldiers and hundreds of Somalis were killed. Soon after the battle, which was later dramatized in the movie "Black Hawk Down," President Bill Clinton pulled U.S. forces out of Somalia. The bloody events left a lasting reluctance in Washington to intervene in chaotic foreign conflicts.
The kidnapping of Capt. Phillips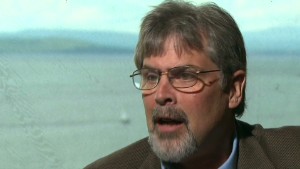 PLAY VIDEO
April 8, 2009: Somali pirates have taken advantage of their country's lawlessness and proximity to key international shipping routes to launch raids on hundreds of vessels over the years, often taking captives. One of the most high-profile assaults was on the cargo ship Maersk Alabama in April 2008, a hostage drama that spawned the movie "Captain Phillips." On April 8, four armed pirates boarded the ship about 380 miles off the Somali coast. After failing to take control, the pirates seized Phillips and held him on a small lifeboat for days. On April 12, U.S. Navy SEALs stepped in, killing three of the kidnappers, capturing the fourth and rescuing Phillips.
A congressman's plane comes under mortar fire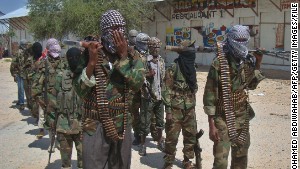 PLAY VIDEO
April 13, 2009: Throughout his career, U.S. Rep. Donald Payne of New Jersey devoted energy and attention to issues in Africa, including the atrocities in Rwanda and Darfur. In April 2009, he visited Somalia, despite advice from the State Department not to do so, in order to meet with the country's new President, Sheikh Sharif Sheekh Ahmed. As the Democratic congressman's plane was taking off from Mogadishu — on April 13, the day after the rescue of Phillips — the aircraft came under mortar fire. The attack, which Payne's aircraft narrowly escaped, was claimed by Al-Shabaab, the Qaeda-affiliated terrorist group in Somalia. Asked by CNN why he undertook the risky trip, Payne said, "I've been dealing with that area for the last 20 years. And I had worked during the past two or three years trying to help them form a new government."
The killing of a terrorist leader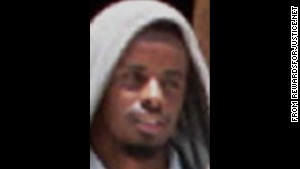 PLAY VIDEO
September 1, 2014: The United States has been fighting Al-Shabaab militants for years, using airstrikes and raids by special operations forces. In September 2014, the U.S. military announced that an operation in Somalia hadkilled the terrorist group's leader Ahmed Godane, one of the most wanted men in Africa. Pledging allegiance to al Qaeda, Godane led Al-Shabaab as it terrorized East Africa, killing Somali officials, aid workers and others in suicide attacks. He was alleged to have been behind the deadly siege in 2013 of a shopping mall in Nairobi, Kenya. But his killing hasn't put attack to Al-Shabaab's bloodthirsty attacks in the region. In April, gunmen from the group killed close to 150 people — most of them students — at a university in Garissa, a Kenyan town in a region near the Somali border.
The first ambassador in more than 20 years
February 24, 2015: In recent years, the Obama administration has sought to improve ties with Somalia, recognizing the government in Mogadishu in January 2013 — the first time in more than two decades. In February of this year, President Obama nominated Katherine S. Dhanani as the first U.S. ambassador to Somalia since the early 1990s. The U.S. government says it hopes that efforts to improve security in the war-ravaged country can help spur political and economic progress. It has admitted to keeping a small contingent of U.S. military personnel in Somalia for several years.
Source: CNN TV